Our Accreditations
At Johnsons, continuous quality management is at the heart of everything we do. Our experience and ability to supply exactly the services required by everyone we move, at competitive prices, has made us the first choice for many families over the years.
We value our employees and the unique mix of skills and resources they bring to Johnsons. Our managers are responsible for continuous quality improvement in all areas of our business. All employees are expected to contribute in a positive manner to the quality of the services we supply. And we provide them with all the necessary training and resources to enable them to do so.
The certifications and accreditations below are evidence of our commitment to doing things right.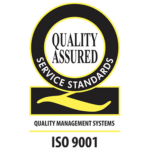 ISO 9001
The ISO 9001 accreditation demonstrates our commitment to providing a high and consistent standard of quality in the services we provide.
ISO 14001
ISO 14001 demonstrates our knowledge, compliance and sound management of environmentally responsible working practices.
ISO 27001
ISO 27001 is the international standard for information security. It sets out the specification for an effective ISMS (information security management system).
ISO 45001
ISO 45001 is seen as the world's most recognised health and safety system, and helps companies put demonstrably sound performance in place in these areas.
BS EN 12522
BS EN 12522 relates only to domestic removals of personal possessions covering quality measures across all aspects of the service provided.
BS 8564
BS 8564 details the processes that have to be followed by removal companies providing domestic, commercial or office relocations overseas.
BS EN 14873
BS EN 14873 is the first and only recognised quality standard specifically aimed at the storage of furniture and personal effects for private individuals.
Cyber Essentials
Cyber Essentials is a Government-backed and industry-supported scheme that helps businesses protect themselves against the growing threat of cyber attacks.
FORS Bronze
FORS accreditation demonstrates our dedication to driver and vehicle safety, combined with improving operating practices through effective monitoring of fuel and tyre usage.
NEBOSH
NEBOSH is a globally recognised qualification to assess health, safety, environmental and risk management knowledge, held by staff at director level.
IOSH
IOSH is the Chartered body and largest membership organisation for health and safety professionals.
RoSPA
RoSPA is the leading voice in health and safety that campaigns to reduce avoidable accidents at home, on the road, at work and at leisure.
British Safety Council
Our British Safety Council membership helps us to manage legislation and compliance while systematically improving our health, safety and wellbeing standards.
Freight Transport Association
FTA is one of the UK's largest trade associations and represents the transport interests of companies moving goods by road, rail, sea and air.